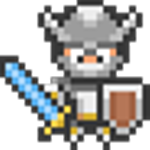 The Magic Sword is the fifth tier of weapons in BrowserQuest. It is dropped by Greater Skeletons in the Desert.
The Magic Sword does 21-48 damage to enemies.
Though it is technically stronger than the Morning Star, it occasionally does less damage; the Morning Star's damage range is 26-48 compared to the Magic Sword's 21-48.
It looks somewhat like the Master Sword from the Legend of Zelda.